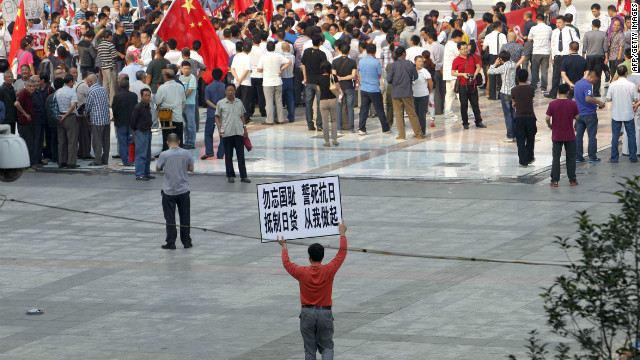 Chinese demonstrators protest on the streets in Zhengzhou, Henan province, on September 18, carrying on anti-Japanese rallies from the weekend.
Anti-Japan activists step on a Japanese flag on September 18 during a protest in front of the parliament building in Taipei to demand the Taiwan government cooperate with China against Japan.
Police walk past a closed Japanese restaurant covered with Chinese national flags as anti-Japanese protests continued outside the Japanese Embassy in Beijing on September 17.
A protester hurls a gas cannister during a demonstration over the disputed Diaoyu Islands, which is also known as Senkaku by Japan, in Shenzhen, China.
A protester tries to climb over a security barrier during an anti-Japanese protest outside its embassy in Beijing on September 15, 2012.
The protests, at times, became violent.
Chinese para-military police create a barrier to prevent protesters from breaching the Japanese embassy in Beijing.
Demonstrators showed their discontent by targeting imports from Japan, including this Japanese car damaged in Xi'an, northwest China's Shaanxi province.
Chinese protesters gather outside a JUSCO, a Japanese department store, in Qingdao, northeast China's Shandong province.
Security guards try to remove Chinese protesters who ransacked Japan's JUSCO departmental store, in Qingdao on September 15.
Police fire tear gas to disperse the crowds in Shenzhen, south China's Guangdong province.
A shredded banner shows Japanese Prime Minister Yoshihiko Noda beside a picture of Mao Zedong in Beijing.
Anti-Japan protests sweep China
Anti-Japan protests sweep China
Anti-Japan protests sweep China
Anti-Japan protests sweep China
Anti-Japan protests sweep China
Anti-Japan protests sweep China
Anti-Japan protests sweep China
Anti-Japan protests sweep China
Anti-Japan protests sweep China
Anti-Japan protests sweep China
Anti-Japan protests sweep China
Anti-Japan protests sweep China