Kenyan PM wants to take Al-Shabaab stronghold in Somalia by August
June 12, 2012 -- Updated 1152 GMT (1952 HKT)
STORY HIGHLIGHTS
"Without controlling Kismayo, it is difficult to completely neutralize Al-Shabaab," Raila Odinga says
Kismayo seen as one of the few urban strongholds, and revenue generators, for Al-Shabaab
Odinga outlined a joint effort from "land, sea and air" for the operation
Kenyan troops are part of the African Union Mission in Somalia, which gets U.N. funding
(CNN) -- Kenya's prime minister has put a deadline on capturing a key military objective in Somalia, drawing a line in the sand in his country's war with Islamic militants.
"Our aim is to get to Kismayo by August," Raila Odinga said in a meeting with foreign correspondents in Nairobi on Tuesday. "Without controlling Kismayo, it is difficult to completely neutralize Al-Shabaab."
Since invading Somalia in October of last year, Kenyan forces have been cautious in taking territory from the al Qaeda-linked Al-Shabaab.
In late May, Kenyan ground forces took the town of Afmadow, considered the final step before Kismayo.
Since Al-Shabaab forces retreated from central Mogadishu under a heavy barrage from African Union forces last August, military analysts and diplomats consider Kismayo one of the few remaining urban strongholds, and revenue generators, for Al-Shabaab.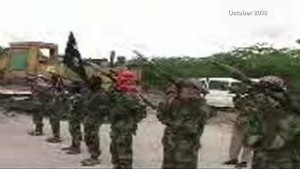 The battle against al-Shabaab in Somalia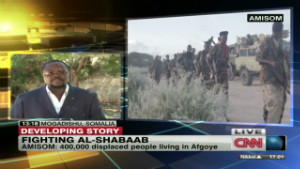 New push against militants in Somalia
Odinga outlined a joint effort from "land, sea and air" for the operation, which he hoped would include European Union naval assistance.
"So far, they have been reluctant," he said.
Kenyan military commanders have repeatedly said they wish to delay moving into Kismayo, as they want to consolidate territory carefully as they move forward. However, a key factor has also been money.
With Kenya "rehatting" as part of the African Union Mission in Somalia, or AMISOM, the nation will access funds from the U.N. to conduct its operations.
It's a move welcomed by the U.S. government, one of the chief funders, through the U.N., of AMISOM's operations.
"We are very pleased with the rehatting of the Kenyan troops in Somalia," Johnnie Carson, U.S. assistant secretary of state for African affairs, said after a trip to Mogadishu on Sunday. "We will continue to provide assistance to AMISOM as long as Al-Shabaab remains a threat to people in the region."
He said the U.S. was not privy to Kenya's operational plans to move on Kismayo. While officials from both countries say the U.S. frequently shares intelligence with Kenya, as part of its allied relationship, they maintain that there is no direct military support.
"If the U.S. could bring military assistance, far much the better," Odinga said.

Part of complete coverage on

Look at images that show how turmoil has unfolded in Somalia since the collapse of the government two decades ago.
February 23, 2012 -- Updated 1605 GMT (0005 HKT)

Nima Elbagir explores how Somali extremists recruit in London's "khat cafes," and how some expats are countering their tactics.
February 23, 2012 -- Updated 1603 GMT (0003 HKT)

Terror group Al Shabaab, which has connections to al Qaeda, has long flourished in eastern Africa. CNN's Tim Lister explains how.
February 23, 2012 -- Updated 0403 GMT (1203 HKT)

Kenya's military marched into Somalia and have been there for months. CNN's David McKenzie reports.
February 22, 2012 -- Updated 1740 GMT (0140 HKT)

A mom tells how her teen son living in a Kenyan slum was one of at least six persuaded to join al-Qaeda-linked Al Shabaab.
February 22, 2012 -- Updated 1654 GMT (0054 HKT)

Somalia's Al-Shabaab brushes aside accusations it is recruiting child soldiers, saying Islam considers people to be adults at 15.
February 22, 2012 -- Updated 2252 GMT (0652 HKT)

Somalia's prime minister tells CNN the country needs up to $10 billion from the international community.
February 22, 2012 -- Updated 1442 GMT (2242 HKT)

CNN's Zain Verjee reports on the use of "pirate scarecrows" and other methods to avoid pirates in dangerous waters.

Today's five most popular stories